Do you have a Junior Paleontologist on your hands? Then they'll LOVE these rawr-some Dinosaur Birthday Party Ideas!
This post may contain affiliate links where I earn a small commission from your purchase. See full disclosure for details.
My daughter, Sophia, has been an independent thinker since she was 1. No, really, she has. As I was preparing for her 2nd Birthday Party, I decided on a Dora theme because she was completely in love with Dora at the time and in her little 1 year old voice she proclaimed she did not want a Dora Party, she wanted a Mickey Mouse Birthday Party. Even at a ripe age of 24 months, I knew that if she walked into her Birthday Party and it wasn't Mickey, I would never hear the end of it. So, Mickey Mouse she got.
Then, last year she requested a Disney Princess theme so I took a fun, personalized spin and made it a Princess Tea Party.
The week before her 3rd birthday she fell in love with Dinosaurs. I just knew she was going to ask me to change the theme, but she didn't. She loved her Princess Party, but declared her 4th would be a Dinosaur Birthday Party and let me tell you, this girl doesn't change her mind once she proclaims it.
So, in true Mommy Blogger form, I'm sharing just how we created this RAWRsome party with these Dinosaur Birthday Party Ideas!
My little lady only had a few requests when it came down to planning and throwing a Dinosaur Birthday Party, she wanted:
T-Rex Plates
T-Rex Cake [first this was a cake shaped like a T-rex, but I finally convinced her of a little something more fun and easier for Mommy to do]
Pin the Tooth on the T-Rex Party Game
Do you hence a pattern here? These dinosaur birthday party ideas were most definitely centered around the short-armed, ferocious carnivore.
Luckily we had fabulous weather, so we transformed our back yard into Dinosaur Party Central with some great hanging signs and dinosaur party decor that matched the T-Rex Party plates and napkins Miss Sophia picked out.
To fulfill Sophia's request of a Dinosaur Party Game, we came up with "Pin the Tooth on the T-Rex"!
The kids LOVED this and she still has her T-Rex hanging up in her room. I wish I could take credit for this beautifully drawn tooth-less T-Rex, but my husband, Rob, is the artistic one in the family and drew the dinosaur by free-handing from these party plates.
Since most of our attendees were young children like to simply run around more than play organized games, we only did one other game but it lasted through pretty much the whole party.
Dinosaur Birthday Party Ideas: Turn your sand table into a Dinosaur Dig Site!
I purchased Dinosaur Fossils and Skeletons from Amazon and filled our Step2 Sand Table full of blue sand to create a Dinosaur Dig Site. The safari hats were super fun, and doubled as a party favor.
I can't throw a party without sending home some adorable themed party favors so this year I went with my classic – bubbles, wrapped with a free dinosaur printable [download that here], some great Dinosaur Masks [purchased from Amazon], the Safari hats, and some fun, totally decked out applesauce pouches [that you can get for a GREAT deal with Prime Pantry] complete with dinosaur heads, spines, and tails! The kids LOVED these and they were SO simple to make – just print off some pictures of dinosaurs and hot glue them to the pouch lids!
Lastly we have… the Party Food and Dinosaur Birthday Cake! Before we get to the pictures – one of the best tips I can give you for throwing a themed party on a budget [in addition to the bubbles as party favors idea] is how you purchase your Party Supplies!
DIY Party Expert Tip: Add in specific colors [in addition to your character or specialty plates] to save money on party supplies.
We had the super fun T-rex party plates, but they can get pricey. I also bought coordinating green plates and napkins. Since solid party supplies are usually cheaper, it's a great way to save, but still stick with a theme!
Our Party Food Centerpiece was this fantastic Dinosaur Watermelon Fruit Tray carved by my Brother-in-Law! It was the perfect centerpiece!
And Sophia's favorite part of the party was definitely the cake. I totally feel like I knocked it out of the ballpark and was incredibly happy that my vision became a reality in this two-tiered Blue Velvet Dinosaur Birthday Party Cake!
The cake was 2 layers of blue velvet cake with chocolate icing. I used some of Sophia's dinosaur toys and volcano [topped off with orange and red icing for lava] as the main decorations. A blue river surrounded by edible chocolate rocks totally brought this cake to another level! The kids LOVED that they could eat the rocks!
I love throwing birthday parties and this one was one of my favorite so far. I love to DIY parties to save money, but to also add that personal touch for the birthday girl and guests and these dinosaur birthday party ideas made it totally rawr-some!
I've received a few questions about Sophia's Dinosaur Birthday Shirt. I purchased it from Etsy. You can find a ton of cute personalized dinosaur birthday party supplies and decor there too!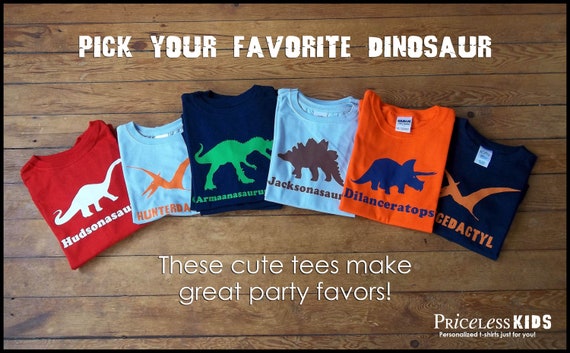 Sophia's personalized Dinosaur Birthday Shirt was purchased from the Priceless Kids Etsy Shop.