Do you have a Junior Paleontologist on your hands? Then they'll LOVE these 30 rawr-some Dinosaur Birthday Party Ideas! And dinos aren't just for boys – we threw our Dinosaur Birthday Party for our 4 year old daughter – these dino ideas that can be enjoyed by everyone who loves prehistoric creatures!
This post may contain affiliate links. By purchasing through these links, I may make a commission. Thank you for your support.
My daughter, Sophia, began her dinosaur obsession at the age of 3. It seems like dinosaurs become super popular with toddlers and kids around those early years so it definitely makes sense that a dinosaur birthday party is at the top of the list for that age group!
But are you worried about where to start? Looking for dinosaur birthday party ideas that won't break your budget? I've got you covered! From dinosaur cake ideas to dinosaur gift ideas, I've got it all in this post!
If there's one thing you should know about me, it's that I love to throw a themed birthday party! We've had party themes ranging from Mickey Mouse to Frosty the Snowman. I even threw a Beach Birthday Party in January!
But this dinosaur party will always rank high on my favorites list because it was such a hit with our party guests and, of course, the birthday girl! She had a blast and so did I!
There are so many great dinosaur party ideas, some DIY and some you can buy, that you can really put together a great dinosaur birthday party for any child – even on a budget! Before you start crafting and buying, though, I definitely recommend a bit of brainstorming with your birthday guy or gal. I started by asking what Sophia really wanted at her party and then went from there!
My little lady only had a few requests when it came down to planning and throwing a Dinosaur Birthday Party, she wanted:
Do you hence a pattern here? Her dinosaur birthday party ideas were most definitely centered around the short-armed, ferocious carnivore. Because, you guessed it, a T-Rex is her favorite dinosaur! While we definitely focused on the Tyrannosaurus Rex in the party theme, you'll find all kinds of dinosaurs featured in these ideas.
Dinosaur Decorations
She has a May birthday and luckily we had fabulous weather, so we transformed our back yard into Dinosaur Party Central. I purchased dino birthday signs to hang from the tent. While we didn't have any dinosaur balloon decorations, other than a couple of regular balloons, I am LOVING this whole dino balloon display from Amazon!
Another great idea is to decorate with dinosaur toys or items your child already has. You can even decorate with dinosaur gifts – like this amazing dinosaur name sign from Etsy.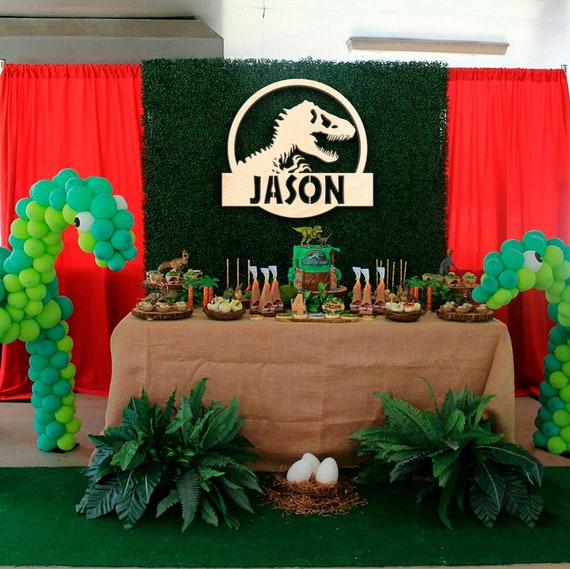 Dinosaur Party Supplies
A dinosaur party theme is quite a popular one with younger children, so you can find dinosaur party supplies at a variety of stores. We purchased most of ours from Amazon and a local party shop.
We had the super fun T-rex party plates, but they can get pricey. I also bought coordinating green plates and napkins. Since solid party supplies are usually cheaper, it's a great way to save, but still stick with a theme!
DIY Party Expert Tip: Add in specific colors [in addition to your character or specialty plates] to save money on party supplies. We stuck with the green and orange that matched our T-Rex plates and blue – the birthday girl's favorite color!
If you want to go even more personalized in your dinosaur party theme, be sure to check out Etsy! They have so many great sellers who do personalized dinosaur birthday party supplies!
The Good Dinosaur Party Ideas
We love a good Disney themed party in my family [like this Frozen birthday party] and since The Good Dinosaur wasn't released until after Sophia's 4th birthday, I wasn't able to use any of it in her party decor. But, you can now!
Here are some great The Good Dinosaur party ideas for a dinosaur party theme:
Dinosaur Activities for Kids
There are SO MANY dinosaur activities that you can incorporate into your dinosaur birthday party! To fulfill Sophia's request of a dinosaur party game, we came up with our own version of "Pin the Tooth on the T-Rex". It's a classic birthday party game and perfect fun for little ones.
The kids LOVED this and she still has her T-Rex poster hanging up in her room. I wish I could take credit for this beautifully drawn tooth-less T-Rex, but my husband is the artistic one in the family and drew the dinosaur by free-handing from these party plates.
Our other dinosaur activity that turned out to be the BIGGEST HIT of the party was a Dinosaur Dig!
I purchased Dinosaur Fossils and Skeletons from Amazon and filled our sand table full of blue sand to create a Dinosaur Dig Site. I loved this as much as all the kids – it kept them busy, plus they took their fossils home as the game doubled as dinosaur party favors!
Here's what you need:
I simply hid the plastic fossils in the sand table before the party and the kiddos loved digging through and brushing off the sand. They re-hid them again and again!
Team Cartwright shared an entire blog post with tons of STEM and dinosaur activity ideas. I love the huge T-Rex feet!
Dino Puzzles: Here's an entire FREE printable puzzle pack! You could have these for older kids to enjoy while the little ones play in the dino dig.
Another great idea, especially for toddler birthday parties, is to have crafts for the kids to do. What crafts you decide to do definitely depends on the age of the kids in attendance. Lucky for you, I have rounded up lots of fun dinosaur crafts for kids that would be perfect at your dino birthday party!
Show a Movie: Depending on the kids' ages, you might even want to show a dinosaur movie. Check out this list of 10 family friendly dinosaur movies you could watch at your party.
10 Dinosaur Crafts for Kids
I only wish I had made these for the kiddos at our party – surprise rocks! I know you've seen those dinosaur eggs that you can buy with a hidden dinosaur inside. Well, The Kitchen Is My Playground shares how to make your own!
Dinosaur Gifts for Kids
You can't have a dinosaur birthday party without a few dinosaur gifts for kids, especially the birthday girl or boy!
I scoured the web and found these super fun dinosaur toys and gifts that I know my daughter would love.
Books also make great dinosaur gifts for kids and these were some of my daughter's favorites:
And the same goes for your party attendees too – hopefully they love dinos too!
One of my favorite parts of throwing a themed party is sending guests home with special party favors and this dinosaur birthday party theme was easy and fun. Keep in mind, this party was thrown back in 2014. There's even more fun dino birthday party favors that you can buy available now, but if you like to DIY, you might like a few of these ideas!
I simply printed dino clipart onto cardstock and cut them out to glue onto applesauce pouches. They were a great snack for the little ones even during party time too. The dinosaur foam masks and dino foam stickers for the bags were a big hit too – and they're both really inexpensive.
You'll almost always see me use bubbles as party favors. That's because they're cheap and always a hit with kiddos. I buy them from Dollar Tree [3 or 4 for $1.25] and just add a themed party label. I actually used these dinosaur printables from here.
Dinosaur Cake Ideas
What's a party without food?! Let me show you what we served and a few other great ideas to have at a dinosaur birthday party, including dinosaur cake ideas!
Our dinosaur birthday party food centerpiece was this fantastic Dinosaur Fruit Tray carved by my Brother-in-Law! It was the perfect centerpiece for this party! Although it may be easier said than done, I bet you could totally carve a watermelon just like this just by referencing the picture.
Here's a few more fun dinosaur party food ideas to serve at your party:
And Sophia's favorite part of the party, of any party that is, was definitely the cake. You might remember that she asked for a T-Rex cake, but I wasn't really up to that challenge. Instead, I decided to make a two-tiered blue velvet cake and decorate the top.
Now, I never claimed to be a professional baker or cake decorator, but I was super happy with how this dinosaur cake turned out. The cake was 2 layers of blue velvet cake with chocolate icing – her favorite color and flavors. I used some of Sophia's dinosaur toys and a toy volcano [topped off with orange and red icing for lava] as the main decorations.
A blue river of icing, surrounded by edible chocolate rocks, totally brought this cake to another level! The kids LOVED that they could eat the rocks!
A dinosaur cake can really be made just about any way, here's a few more that you can use for your inspiration.
This DIY Dinosaur Cake is made out of a 9×13 cake. Coffee With Us 3 even gives you a free template to print to help you cut out the cake!
Here's another totally different dinosaur birthday cake idea – a dirt cake decorated with plastic dinos and eggs! I love this idea from Hello Wonderful!
Another fun idea is to make a birthday cookie cake and this one is fantastic, complete with dino footprints.
Can't get enough of all these DINO-mite [yes, I inserted a dino pun FINALLY] Ideas?! Here's even more to check out from some blogger friends of mine:
I love throwing birthday parties and this one was my favorite so far. I love to DIY parties to save money, but to also add that personal touch for the birthday kid and guests! While I threw a girl dinosaur birthday party, these ideas can be used for ANY dino-loving child! I know you can use some of them to throw your own great dinosaur birthday party too!
This post was originally published in July 2014.