Looking to throw a Mickey Mouse Birthday Party? These DIY Mickey Mouse birthday party decorations and party food are sure to be a hit with your guests.
This post may contain affiliate links.
When my daughter turned 2 she requested a Mickey Mouse Birthday Party. While you can easily head to a party supply store and find tons of Mickey Mouse Birthday Party supplies, it's way more fun [and really can be way cheaper] to make your own. Here you'll find everything you need to throw a fabulous party with DIY Mickey Mouse Birthday Party decorations!
No Mickey Mouse party is complete without a Clubhouse sign. We DIY'ed this one with Paint Markers – super easy and it was a fun touch to show the little Mousketeers where the party was!
Mickey Mouse Party Attire
And the party wouldn't have been possible without the Birthday Girl! I perused Pinterest and Etsy for a Mickey Mouse Birthday Dress or shirt that would have been perfect, but couldn't really find anything. So, with the help of my best friend, Amy [ok, ok she did it all!] – created a beautiful Mickey Mouse Party Dress!
If you don't feel quite up to making your own Mickey Mouse Party Dress, I found some really cute options on Etsy: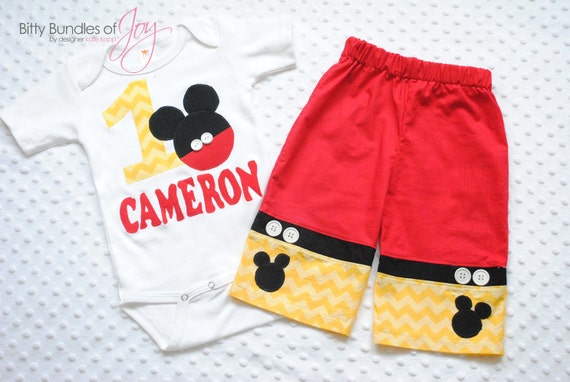 Personalized Chevron Mickey Mouse Birthday Outfit Including Shirt and Pants with Real Buttons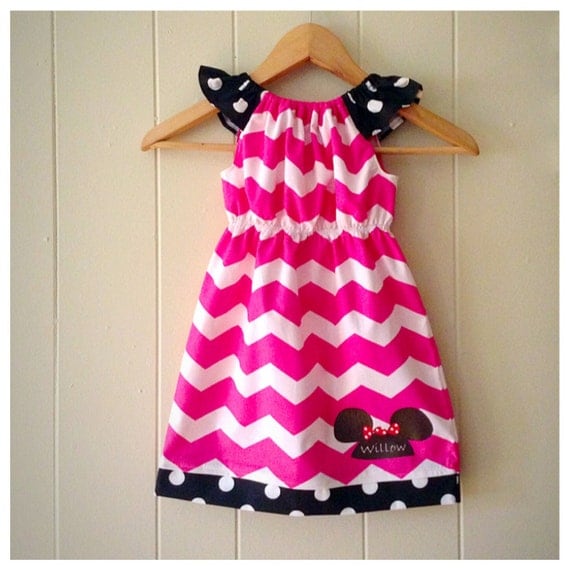 Pink Minnie Mouse Chevron Dress with Name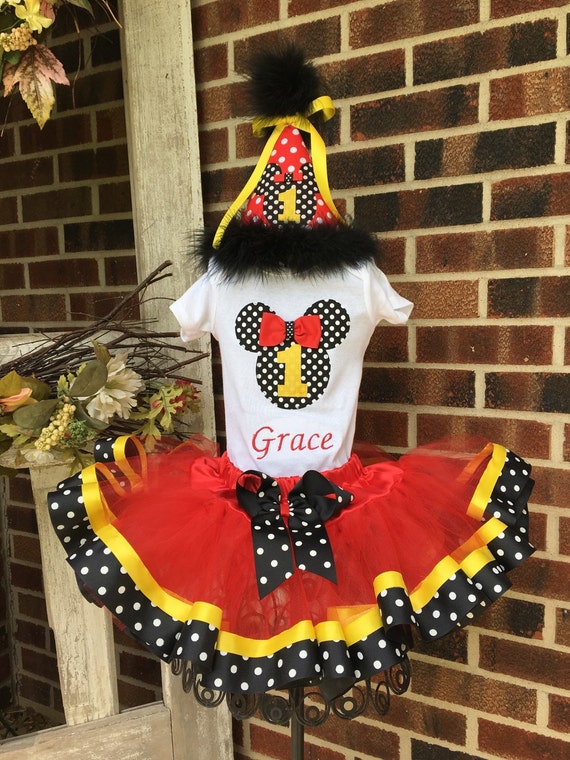 Red Dot Mickey Disney Girl Boutique Birthday Outfit Tutu Shirt Hat Pink Dots First Second Third Sewn
Mickey Mouse Birthday Party Decorations
Ready to see the party decorations?! Most were purchased off Etsy from Amanda's Parties to Go. I paired the DIY printables with some colorful paper straws and wooden dowels and a little imagination!
After purchasing the large party set, I used these printables for everything – Cupcake Toppers, Centerpieces, Food Tent Labels, Game Labels, Stickers, etc. It's totally possible to have a super cute party on a budget!
Expert DIY Party Tip: When throwing a character birthday party [where trademarked party decorations can get expensive], focus on specific color schemes to tie the party together!
I also love decorating with my party favors. For our Mickey Mouse birthday party decorations I had themed frisbees, bubbles, and Mickey Mouse headbands. I left them sitting out, rather than in a party favor bag, for extra color and decoration! Get all the details on our party favors and Mickey Mouse Birthday Party Games here.
Party favors aren't the only extra decorations you can use – I love to decorate with party food too! Our Mickey Mouse Birthday Party food centered around our cupcakes, Mickey Mouse marshmallows, and colorful sodas.
One of my favorite party decorations happened to be the birthday girl's candle! After I couldn't find a cute Birthday candle to match our color theme, I DIY'ed one too! Here's how I blinged out a Dollar Store Birthday Candle and made a DIY Birthday Candle that you can make to match any birthday theme!
Our Mickey Mouse birthday party decorations were a huge success because everyone seemed to have a wonderful time! We still have some of the party decor and games in play at our house over a year later! That's one reason I love DIYing parties because when you do, it's so much more fun, personal, and lasts much longer than the little plastic toys you invest so much in!
Mickey Mouse Pinata, Shaped Pull String
Mickey Mouse Party Pack for 16 Guests
Disney Mickey Mouse Clubhouse Cupcake Stand
Mickey Mouse Clubhouse Photo Booth Props, 8pc
While I love to DIY a party, I know everyone doesn't. You can easily supplement store bought items with some great ideas for a fun and fabulous Mickey Mouse Birthday Party! Not ready to DIY it all? You can find some cute Mickey Mouse Birthday Party decorations on Amazon too!