This is a sponsored post written by me on behalf of Similac® StrongMoms® for IZEA. All opinions are 100% mine.
A couple of weeks ago, I saw a friend share a video on Facebook of a simple parody of what we often refer to as "Mommy Wars". She said it was worth a watch, so I clicked through. Not only did that video make me laugh at the hilarity [and total truth of how some parents react to other's choices], but I had tears in my eyes by the end. I immediately shared with another friend and her response was the same as mine – "Wow. That was GOOD."
So, of course I shared with SEBG readers and you all seemed to feel the same – as did most Facebook and Twitter users. The message behind the video was so powerful – the way we treat parents with different views from our own is laughable from the outside, right? But what it comes down to is that we're ALL parents and we all can be there for one another when the going gets tough… and parenting does get tough.
To help with those tough moments and make life just a bit sweeter for strong Moms like us, Similac is holding an amazing sweepstakes!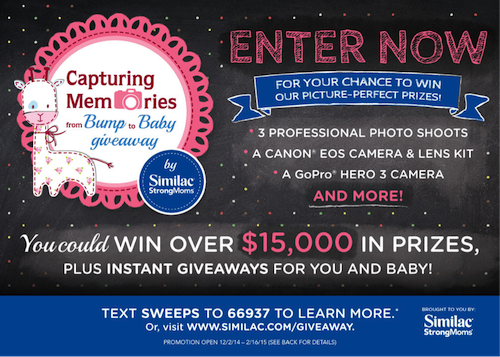 The Strong Moms Giveaway runs until February 16th and check out the AMAZING Grand Prize that one Strong Mom will win:
3 Professional Photo Shoots
Canon® EOS Camera and Lens Kit

A GoPro® Hero 3 Camera

A 13-inch MacBook

Adobe Photoshop® Elements 12 and Adobe Premiere® Elements 12

Beginnings Baby Record Book

$500 Shutterfly® Gift Card
$500 Pickles & Ice Cream® Gift Cards
Medela® Pump in Style Breast Pump
A What to Expect When You're Expecting® Book Set
In addition, 300 Moms will win instant prizes including:
Similac® Prenatal Vitamins

Similac® for Supplementation Formula

Shutterfly® Gift Cards

Snoogle® Full Body Pillows

Beginnings Baby Record Book

Medela® Pump in Style Breast Pump

A What to Expect When You're Expecting® Book Set
Not only that, by joining, Moms receive a number of benefits including:
Nutritional guidance for a healthy pregnancy

Emails with tips and tools

Infant formula savings, samples and partner offers

Great Nutrition information for mom and baby, along with check lists, tools, like the diaper decoder and tummy trouble tool are all available through the program/website.
What are you waiting for?! Go enter now – which part of the Grand Prize are YOU most excited about!?
**The designers and manufactures whose products are featured in the giveaway are neither sponsors of nor affiliated in any way with this giveaway, nor do they endorse products or services of others included within the prize. All trademarks and service marks included on such products or services are property of the respective designers and manufactures. See official rules here.