Thanks to Green Sprouts from iPlay for providing an eco-friendly toddler plate to facilitate this review. And to Jamie from Momma Without a Clue for this review!
My baby girl isn't a baby anymore. *Sob* She's entering that independent stage where she'd rather scream and throw things than let someone help her do anything something she's convinced she can do on her own. Twelve months old and already so ready to push Momma aside and have things her way. Even though it's killing me to see her grow up so fast, I love seeing her achieve things on her own – that huge grin she gets when she's mastered something will light up an entire room!
Lately, the big thing has been eating. She wants to feed herself, and wants to do so like a big girl. No more throwing bite-sized pieces of whatever I'm eating onto her tray; she wants a plate and spoon. So when the opportunity came up to review a warming plate from iPlay's Green Sprouts line, I jumped at the chance.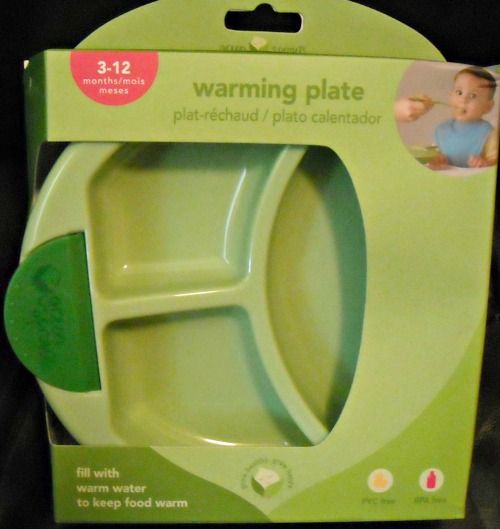 To be honest, I'd never heard of a warming plate before. Apparently, the concept of a warming plate goes all the way back to the 1800′s. This one is a bit more modern though. I love that Green Sprouts takes extra precautions when making products for babies; their warming plate is BPA and PVC free.
So, how does it work? Well, the claim is that if you fill the base of the warming plate with warm water (no hotter than 150°F), then it will keep baby's food warm. It has a sturdy base with a suction cup to keep little hand from turning it over, and a secure cap on the reservoir. The plate itself is divided into three sections to keep food separated, with deep compartments to keep food from being knocked out.
The verdict? We love it. It's easy to use, sturdy, and really helps my little girl feed herself with confidence. I don't have to worry about hot spots in her food, because it will not warm over the temperature of the water inside. Did I mention that it's easy to clean? Yeah, that's a big plus: it comes apart and is top-rack dishwasher safe.
Check out the Green Sprouts Warming Plate for your little one, and be sure to connect with iPlay on Facebook and Twitter